There's no pandemic!
MORE AND MORE EVIDENCE ON THE TABLE!
Doctors and other Health Professionals state: 1) There's no pandemic, and
2) A vaccine is NOT needed and is NOT proven to be safe or effective.
 For more information, visit:Children's Health Defense @ https://childrenshealthdefense.org
Featuring:
Dr. Andrew Kaufman,
Dr. Hilde De Smet,
Dr. Nils R Fosse,
Dr. Elizabeth Evans,
Dr. Mohammad Adil,
Dr. Vernon Coleman,
Prof. Dolores Cahill,
Dr. R Zac Cox,
Dr. Anna Forbes,
Dr. Ralf ER Sundberg,
Dr. Johan Denis,
Dr. Daniel Cullum,
Moritz von der Borch,
Dr. Anne Fierlafijn,
Dr. Tom Cowan,
Dr. Kevin P Corbett,
Dr. Carrie Madej,
Dr. Barrie Lando,
Kate Shemirani,
Sandy Lunoe,
Boris Dragin,
Dr. Natalia Prego Cancelo,
Dr. Rashid Buttar,
Dr. Nour De San,
Dr. Kelly Brogan,
Prof Konstantin Pavlidis,
Dr. Sherri Tenpenny,
Senta Depuydt,
Dr. Heiko Santelmann,
Dr. Margareta Griesz-Brisson,
Dr. Mikael Nordfors,
Dr. Elke F. de Klerk.
Referenced: https://cormandrostenreview.com/report/ and https://worlddoctorsalliance.com/
Immunization expert: 'Unvaccinated people are not dangerous;

vaccinated people are dangerous for others

'
https://americasfrontlinedoctors.org/frontlinenews/immunization-expert-unvaccinated-people-are-not-dangerous-vaccinated-people-are-dangerous-for-others/
Canada : All Vaxxinated People Must Quarantine Over the Winter Months or Risk Serious Illness!
Link >>>
Biden force them to Lie!
THE BLOOD UNDER A MICROSCOOP
Watch video, ALL ARE FULLVCCINATEDT ..!
Video..
Video
Video
VACCINE INJURY TESTIMONIAL DURING PREGNANCY - UK 
"My niece had her second child last month. Throughout her pregnancy she resisted being vaccinated. A month before the baby was born she was told that she would need a cesarean section and the hospital and doctors insisted that they would not allow her into the hospital unless she had the jab.
With such pressure, and the worry of her baby's health, she felt forced to comply and take it. 
Now the baby is in hospital, with uncontrollable intermittent 'jitters' that are worsening. Every test that has been done has come back negative so they are being transferred to the Great Ormond Street hospital to do further investigations."
This tragic testimony seems very similar to the tremors other victims are suffering from. THIS IS CRIMINAL.
Please pray for this family and their new baby 
 #Nuremberg2 #DirectAction
Lady speech.. 
https://m.facebook.com/story.php?story_fbid=117096037355207&id=100071644320384
Coffin Totland...
https://m.facebook.com/story.php?story_fbid=117097757355035&id=100071644320384
Blood Brain barrier https://m.facebook.com/story.php?story_fbid=116984980699646&id=100071644320384
The Full FDA Covid 19 Product Advisory
https://www.fda.gov/media/143557/download
LISTEN TO THIS LAWYER 
https://tapnewswire.com/2021/06/an-announcement-by-reiner-fuellmich
Click on the picture...and watch video.
A nurse telling the truth, I believe her 100%
PLEASE WATCH THIS VIDEO TOO..
Unfortunately, evidence of some kind can no longer be presented on social media as it is censored in the form of logarithms.
He is not a politican ,just honest..
(This video was delited from youtube very fast...why? Sensur!)
Did you know that you "have" to take the shoot every year..1...2...3...4..they call it boosting..BOOM!
LET ME SHOW YOU SOMETHING, MAYBE YOU WAKE UP..UNDERSTAND THE REAL PLAN..THE MARK THE BEAST
AUSTRALIA TODAY SEPT.2021
Go to google,and write a number and cases..people who know how google works, understand why..
Better to use https://duckduckgo.com
watch: https://banned.video/watch?id=6139f2b4cce8911609f37428
Are you thinking of getting a COVID shot?
Is your teenager being forced to take a shot in order to return to college?
Do you have friends on the fence about vaccines?
Are you concerned about their possible side effects?
If you go online and do simple research on the term "COVID Vaccine Side Effects" you are presented with a gaggle of links that are strangely similar. "Side effects are minor and common." "Side effects are a sign that your vaccine is working properly." When you visit YouTube and do the same search, again, the videos have a consistent theme. "The risk from the vaccines are less than the risks from COVID" and "vaccine side effects are actually a good thing." If you post a comment or video on Facebook about vaccine side effects your post is deleted and your account may be closed.
But when you go to an uncensored website like Bitchute.com or Rumble.com and do the same search, you see hundreds of videos from real people who have had horrific side effects from their injections.
This website is dedicated to sharing the truth about these people and their testimonials. Watch for yourself and make up your own mind. Is it worth it to risk life-changing and even fatal side effects from a vaccine for a disease that is survived by 99.98% of people under 70?
Below, you will find countless stories of side effects directly from those involved, or sadly, if they died, from their relatives. 
Please share this website with everyone you know who is still undecided about getting an injection.
---
Please take 3-7 minutes to participate in an important study about COVID, the vaccines, and their side effects, 

visit this site.
---
BREAKING VIDEO
8/18/21
VAXXED Patients' Blood Examined, Horrific Findings Revealed by German Physicians!
Stew Peters Show
PERSONAL STORIES
(New videos added 8/18/21)
8/10/2021
Oliver from England relates the vaccine reactions of his friends and the pressure to get the shots
4/9/2021
22-Year-Old Woman Dies After 2Nd Shot Of Vaccine
4/26/2021
33-Year-Old Woman Hospitalized For 'Mysterious' Paralysis 12 Hours After Pfizer Vaccine
4/24/2021
Young Ladies Testimony After The Covaids Jab
4/24/2021
Warning !! Covid-19 Vaccine Deaths & Stories – Don'T Take The Vaccine !! Share Far And Wide !!
4/19/2021
Still No Help For Kristi Simmonds After Going Public With Vaccine Injury 1 Month Ago
2/2/2021
Moderna Vaccination- 1St Shot – Bell'S Palsy Side Effect 29/02/2021
5/10/2021
"911 Help! I Took The Covid Shot And Woke-Up Dead!"
5/11/2021
Teenage Son Hospitalized With Brain Blood Clots After Pfizer Mrna Vaxx [2021-05-11] – Cherie Romney
5/11/2021
Man Records Nearly Immediate Adverse Reaction To Moderna Shot On Young Girl
6/5/2021
23 Year Old Model Suffers Three Strokes And A Blood Clot – But Insists It'S Not The Vaccine
6/3/2021
Woman'S Brother Becomes Hospitalized After Employer Mandated Vax / Super Infection / Septic
6/12/2021
Uefa Euro 2020 Drama: Christian Eriksen Collapses During First Half Of Denmark – Finland
6/20/2021
One Family'S Vaccine Injury Story
6/29/2021
Same People Would Be Probably Be Calling This Misinformation
7/3/2021
People Still Wait In Line To Get A Shot, While An Injected Person Is Carried Away By Ambulance!
7/5/2021
Care Worker Needs Care Workers After Second Dose Of The Kill Shot.
7/5/2021
2 Vaxxed Cricket Players Drop And Begin Convulsing Within 5 Mins Of Each Other!!
7/9/2021
I Would Rather Have Covid Than To Have The Graphene Oxide Kill Shot. Look At This Dude (Zombie)
7/10/2021
[Interview]18 Year Old Girl Dies Of Covid Vaccine. Parents Tell Their Story And Start A Campaign.
7/13/2021
Kazakhstan Another Bad Reaction To Russian Made Sputnik V Covid 19 Kill Shot
7/13/2021
Another Severe Side Effect To The Fake Vaccination.
7/13/2021
Argentinian Women Collapses After Covid Vaccine – According To Eggsperts, This Means It'S Working!
7/12/2021
Thai Cooking Teacher Drops Dead From Vaxx On Livestream
7/11/2021
Brooklyn Neal Has A Neurological Reaction
7/14/2021
Double Vaccinated Live Online Blackjack Dealer Collapses During Livestream
7/8/2021
Kevin'S Struggle After Covid Vaccine
7/14/2021
Pfizer Before & After
7/7/2021
Julie'S Journey With Bells Palsy
7/8/2021
Wayne'S Covid Vaccine Experience
7/16/2021
This Is The Kind Of Psycho Vaxx Side Effect
7/24/2021
12 Days After The Pfizer Vaccine And She Is Still Alive…Sort Of Anyway
7/26/2021
Brandon Crawford – Had Johnson & Johnson Jab 18 July 2021 – Paralysed/Guillain-Barré…
FOLLOW THE MONEY..
Bill Gates has shares in 8 major vaccine producing big pharma companies
Gates bought $55 million – to reach 10 million – shares in BIONTECH, September 2019, right before 3 Wuhan scientists were believed to have gotten infected with Covid in November of 2019
Gates directly finances UK's Medicines and Healthcare Regulatory Authority (MHRA) as FOIA documents affirm
Gates funds chair of second organisation, JCVI, Professor Andrew Pollard, also of Oxford Vaccine Group and funds his Oxford University
An investigation has revealed that the Bill & Melinda Gates Foundation are the primary funders of the UK's Medicine & Healthcare products Regulatory Agency, and that the Foundation also owns major shares in both Pfizer and BioNTech.
The Medicine & Healthcare products Regulatory Agency (MHRA) extended the emergency authorisation of the Pfizer / BioNTech mRNA jab in the UK to allow it to be given to children between the ages of 12 – 15 on the 4th June 2021.
At the time, the Chief Executive of the MHRA, Dr June Raine said the MHRA had "carefully reviewed clinical trial data in children aged 12 to 15 years and have concluded that the Pfizer vaccine is safe and effective in this age group and that the benefits outweigh any risk".
We are left wondering if Dr June Raine and the MHRA have even read the results of the extremely short and small study. If they have then they would have seen that 86% of children in the study suffered an adverse reaction ranging from mild to extremely serious.
Just 1,127 children took part of the trial, however only 1,097 children completed the trial, with 30 of them not participating after being given the first dose of the Pfizer jab. The results do not state why the 30 children did not go on to complete the trial.
The information is publicly available and contained within an FDA fact sheet which can be viewed here (see page 25, table 5 on-wards).
There was never any doubt that the MHRA would give emergency authorisation for the Pfizer / BioNTech vaccine to be used in children when you consider that a certain Mr Bill Gates owns shares in both Pfizer and BioNTech and is the primary funder of the MHRA.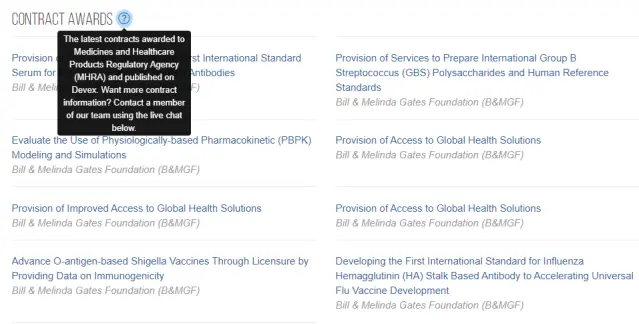 The Bill & Melinda Gates Foundation bought shares in Pfizer back in 2002, and back in September 2020 Bill Gates ensured the value of his shares went up by announcing to the mainstream media in a CNBC interview that he viewed the Pfizer jab as the leader in the Covid-19 vaccine race.
"The only vaccine that, if everything went perfectly, might seek the emergency use license by the end of October, would be Pfizer."
The Bill & Melinda Gates Foundation also "coincidentally" bought $55 million worth of shares in BioNTech in September 2019, just before the alleged Covid-19 pandemic struck.

The MHRA received a grant from the Bill & Melinda Gates Foundation in 2017 to the tune of £980,000 for a "collaboration" with the foundation. However, a Freedom of Information request which the MHRA responded to in May 2021 revealed that the current level of grant funding received from the Gates Foundation amounts to $3 million and covers "a number of projects".
Can we really trust the MHRA to remain impartial when its primary funder is the Bill & Melinda Gates Foundation, who also own shares in Pfizer and BioNTech? We don't think so.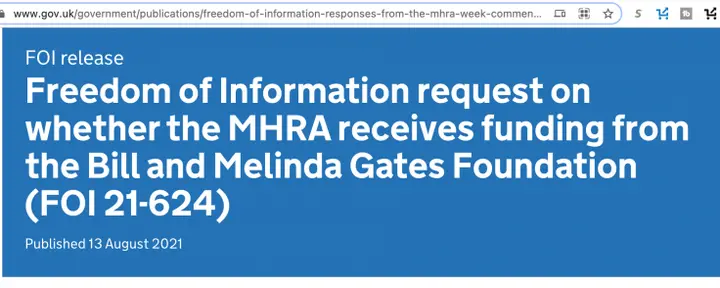 "The current level of grant funding received from the Gates Foundation amounts to approximately $3m. This covers a number of projects and the funding is spread across 3-4 financial years." – gov.uk ; Source2
Gates Funding of JCVI Chair
The second UK agency that advices the Commission on Human Medicines and Chief Medical Officer of the United Kingdom on vaccination issues, is the Joint Committee on vaccination and Immunisation, JCVI. This private advisory agency is headed by Oxford Vaccine Group's Professor Andrew Pollard.
The role of the agency is seen here on gov.uk:
"What is the JCVI?"
"This committee is an independent group of experts who advise the Government health departments in the four UK nations on immunisations and the prevention of infectious disease. They consider vaccine safety, efficacy and look at the impact and cost effectiveness of immunisation strategies."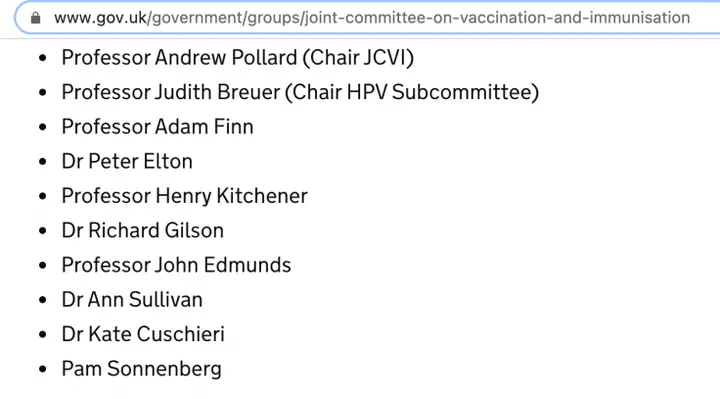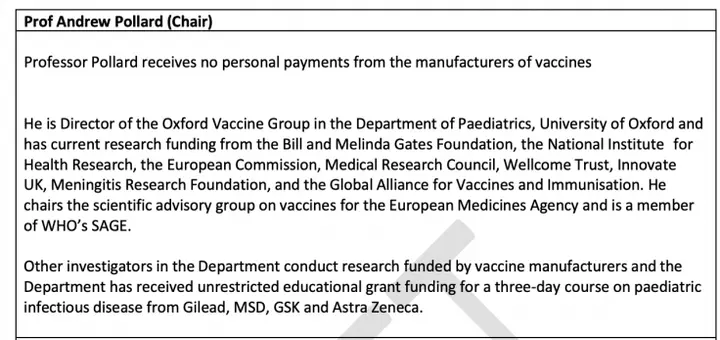 Dr. Pollard receives funds not directly from manufacturers of vaccines as he stated above in his conflicts of interest, but indirectly from them through Bill Gates, a major share holder in eight major vaccine manufacturing companies. See more of Dr. Pollard and various UK agencies and officers' funding by Bill Gates here.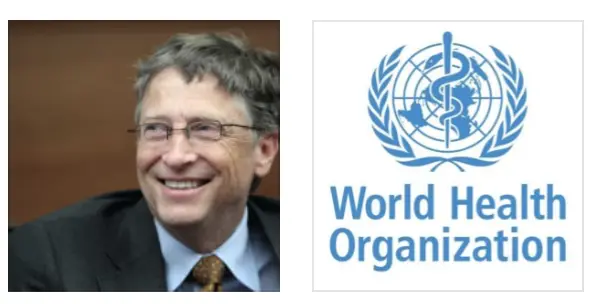 Bill Gates, along with the Kuwaiti leader and the Rothschild foundation also sponsored the World Health Organization, WHO's so-called Digital Document Covid Certificate, DDCV, to teach governments how to impose vaccine passports across the entire world. Aside the United States, Bill Gates is the largest donor to the WHO.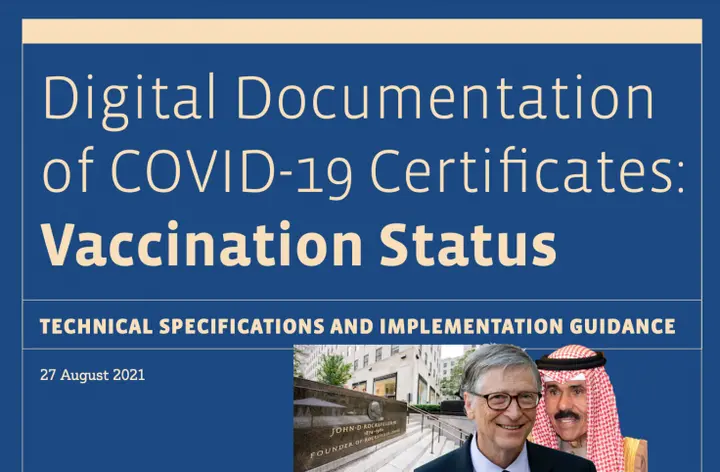 UK to Jab Kids Despite Risk Warnings
"Chris Whitty is set to clear the way for 12 to 15 year olds to routinely be given Covid vaccines – but they may only get one dose, it was claimed today.
"The Government's own vaccine advisory panel, the Joint Committee on Vaccination and Immunisation (JCVI), last week ruled that the benefits of vaccines were only 'marginally greater' than the known risks. Both Pfizer and Moderna's jabs have been linked to a rare heart complication called myocarditis in young adults and children.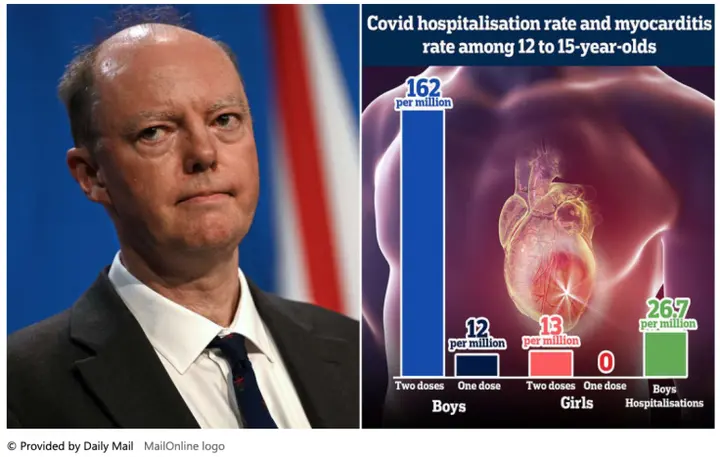 "A University of California study yesterday revealed boys are six times more likely to suffer the side effect after two doses of the vaccine than be hospitalised if they catch the virus." – DailyMail
MORE LINKS  
https://m.facebook.com/story.php?story_fbid=4180463372002228&id=690503547664912
https://freeworldnews.tv/watch?id=613b129738fcb81903a0d327
https://medalerts.org/vaersdb/findfield.php?TABLE=ON&GROUP1=AGE&EVENTS=ON&PERPAGE=400&DIED=Yes&VAX_YEAR_LOW=1991&VAX_YEAR_HIGH=2020&VAX_MONTH_HIGH=11&fbclid=IwAR0rkd1Z6jhReIXCc5eacrKiu3l84J-avP30sOq8mckjDugF_EybAQaI3Yg
NEWS: https://rumble.com/vm6z9m-its-offical-united-states-senate-announced-today-covid-is-a-lie.html?fbclid=IwAR3cJ-XovhPD0vkRL2bx7gd_5wg9MqW6BZTfsU0FT6-PvL--q2QOBZbTUfw
https://fb.watch/7Z2Z8DeIkt/
Wearing mask ?https://www.facebook.com/gregg4nm/videos/4568867296497483
Young boy Warning on tiktok>>>
https://timetofreeamerica.com/voter-fraud/#scroll-content
More links
https://odysee.com/@Corona-Investigative-Committee:5/sca68_converted_720p_english:7?r=FrKobCYTgcojN6Vy3Gov683mdpmcUHdb
Scroll down and read the comments : https://m.facebook.com/story.php?story_fbid=10158207967261135&id=80221381134
THE TRUTH ABOUT "AMERIKA" link>>>
Hospital administrators CAUGHT ON CAMERA scheming to fabricate covid numbers and SCARE the public.. 
(Natural News) When the covid plandemic first began in early 2020, I remember thinking (at first) there's no way this could be fake because hospital administrators and doctors wouldn't fake covid death numbers or falsely try to scare people through deception.
Boy was I wrong.
Since the early days of the plandemic, we've learned that hospitals routinely "fake" covid numbers and very often claim to be overrun with covid patients, even when their beds are nearly empty. Many hospital administrators, doctors and nurses are in on the scam and seem to be ready and willing to deceive the public by fabricating covid numbers and literally killing patients to pump up the covid "death" numbers.
Now, we have proof of all this caught on a zoom video.
In a shocking video clip (included in the Situation Update podcast below), with an accompanying transcript courtesy of InfoWars.com, we see hospital marketing and administration personnel admitting they plan to deceptively count all patients in the hospital as "covid" patients. They openly discuss finding a way to make covid more "scary to the public" as a tactic to terrorize the public into taking more vaccines (which will, of course, increase the business for the hospital due to vaccine-induced blood clots).
This stunning video is an open exhibit revealing that hospitals have become psychological terrorism organizations that deliberately use psy-op tactics to terrorize the public. Is this the proper role of hospitals and doctors in society? When did hospital administrators decide that the ends justify the means, even if it requires terrorizing the public to gin up more business so they can bill Medicare for even more profits?
More importantly, why would any sane person ever trust any hospital ever again after watching this video? If hospitals are scheming against the public, wouldn't they also likely be willing to harm or even kill their own patients in order to increase their profits?
Have no illusions: This is exactly what's happening in America and around the world right now, where hospitals have become murder factories and doctors are now serial killers. It's no longer even a secret. They openly discuss this in their "marketing" meetings.
Hospital administrators and marketers have become death cultists, pushing their covid death cult agenda with utter disregard for medical ethics or honesty of any kind. Now, they openly admit they don't care of it takes an endless stream of lies to terrorize the public. Because that's what the plandemic is based on, after all, and these health care lunatics are apparently 100% on board with the genocidal deception. (It should make you wonder how your own doctor is being paid off to achieve a certain milestone of vaccination rates among patients…)
95% of scientists who authored The Lancet article dismissing lab leak theory have ties to the CCP-run Wuhan Institute of Virology
At the same time, an investigation conducted by The Telegraph looked into the backgrounds of all 27 of the virologists / scientists who co-authored the February, 2020 letter published in The Lancet which claimed that SARS-CoV-2 couldn't have been created in a lab, and that any such talk was merely a "conspiracy theory." Astonishingly, The Telegraph found that 26 out of 27 co-authors had ties to the Wuhan Institute of Virology. In other words, The Lancet was just a mouthpiece for the Chinese Communist Party (CCP), covering up the crime of the century by lying to the world through the voices of compromised, corrupt scientists who all worked for the interests of China.
Put another way, it seems as if the entire institution of "science" is now controlled and operated by communist China, and all the major science journals, World Health Organization, CDC, FDA, Biden regime, etc., all work for China.
I have full details on this astonishing story of corruption, fraud and genocide in today's Situation Update via Brighteon.com:
Brighteon.com/0341ddc2-5128-473e-a83b-ebadd22d2090
Also today, don't miss my bombshell interview with Steve Quayle, where he warns of the imminent collapse of America as we know it… and why we likely won't even make it to the 2022 mid-term elections:
Brighteon.com/fa06f2c1-02b0-4318-b60c-dcb73eb873df
Find more interviews and podcasts each day at:
https://www.brighteon.com/channels/hrreport